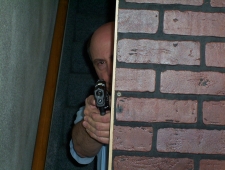 Pucci Associates
philosophy is simple and straightforward:
TRAINING THROUGH QUALITY PROFESSIONAL EDUCATION
. We specialize in quality professional education and training from entry to instructor levels for those interested in learning firearm safety (pistol, rifle, shotgun), personal protection inside & outside the home, and concealed carry; CPR, AED, Basic Life Support (BLS) and standard first aid; and scuba diving and diving first aid. We do not believe in meeting just the minimums. All training meets or exceeds the minimums required. Training classes are
student centered and objective-based

not
instructor centered and time-based. All our instructors must adhere to this simple philosophy. Please refer to our course catalog for specifics about our courses of instruction.
We are centered in Colorado Springs, Colorado. However, we also conduct classes in Denver, Monument, and Pueblo, Colorado. We will travel to other locations to include other states as necessary. If you desire us to come to your area, please email
training@pucciassociates.com
for specific requirements and coordination for dates.